On Saturday, June 10th, the DC Public Library System held it's first "Battle of the Branches" chess tournament at the Martin Luther King Jr. Memorial Library. The Chess Center's own, Ms. Riley Dosh, served as Tournament Director and students from our Friends of Cleveland Park Library Chess Club were among the 57 competitors (of which 26 were children and 31 were adults). Chess players were divided into two leagues by self-declaration – a Beginner League with 16 players and an Intermediate League with 41 players.
Congratulations to Richard Wu (10 years old), representing MLK Library, who won the Beginner League with an undefeated 7 of 7 wins! Meanwhile, Jesse Webb took second place and Elbert deGuzman, representing Bellevue Library, was third.
The Intermediate League was won by Jarock Davis, representing Cleveland Park Library (one of our students!). Larry Jefferson, representing Benning Road Library, took second place; Nathan Pho, representing Southwest Library, was third; and Richard Aiken, representing Tenley-Friendship Neighborhood Library, took fourth place.
In the "Battle of the Branches" overall competition where the scores of the top three players from each branch were compared, Benning Road Library emerged victorious with 13 of their 17 games won.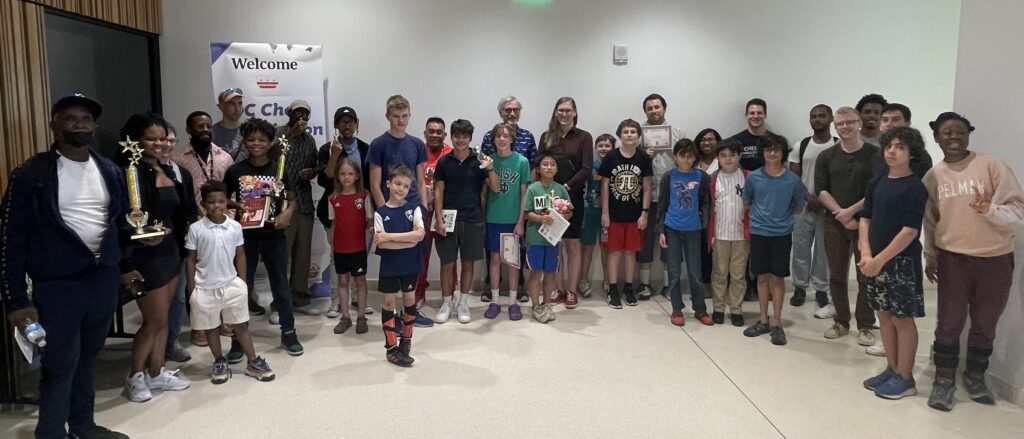 Thank you to Dubian Ade, Carol Auerbach, and the rest of the DCPL staff and librarians for organizing the tournament.  Thank you to NM David Bennett for assisting Ms. Dosh in running the tournament, and thank you to Robin Ramson of ChessGirlsDC, for providing chess sets and other logistical support.
Congratulations to all the winners and players!