Three students from Sunday Chess attended the 2022 National High School Championships in Memphis over the weekend. The tournament had been cancelled for the previous two years because of the pandemic, so there was a lot of pent-up enthusiasm for this year's event.
This was the third Nationals Anish attended, but the first major national for Zach and Ret. All three had wonderful experiences and are more prepared for the series of national championships coming up in the DC area over the next few years.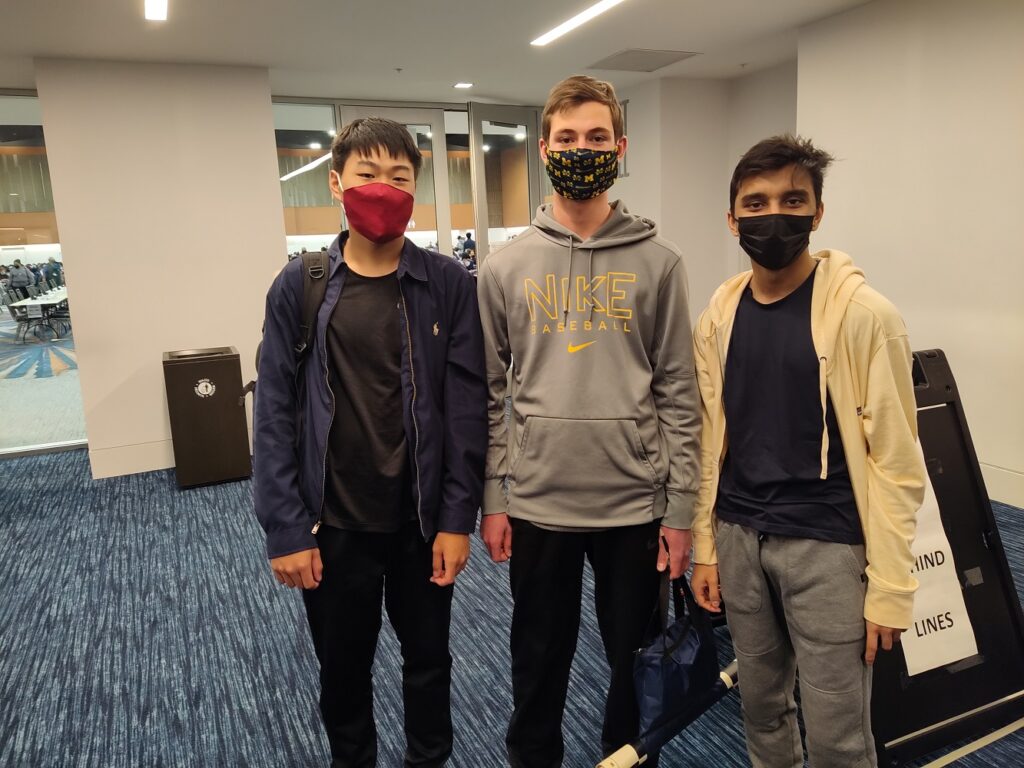 The tournament was run exceptionally well, with professional staff handling every detail efficiently. The rounds started on time, the side events were fun for the students, and the conditions of play were the best ever for a scholastic tournament. We look forward to spectacular events at National Harbor in December and in downtown DC next March.
Posted below is a win of Zach's from the first half of the competition.  Zach, playing the black pieces, managed to hold on against an intimidating attack during the first 25 moves.
1. e4 e5 2. Nf3 Nc6 3. Bb5 a6 4. Ba4 Nf6 5. d3 b5 6. Bb3 d6 7. c3 Be7 8. O-O O-O 9. Nbd2 Na5 10. Bc2 c5 11. Re1 Re8 12. Nf1 h6 13. Ng3 Bf8 14. a4 Bb7 15. axb5 axb5 16. Nf5 c4 17. d4 exd4 18. N3xd4 Bxe4 19. Bxe4 Nxe4 20. Nxh6+ gxh6 21. Qg4+ Ng5 22. Rxe8 Qxe8 23. Bxg5 hxg5 24. Qxg5+ Bg7 25. Nf5 Qe5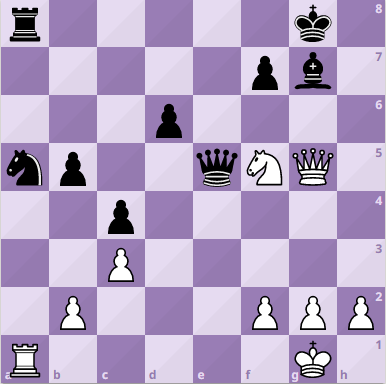 White is down a piece, but looks as though he will regain it after 26. Ne7+ Kf8 27. Qxe5 Bxe5 28. Nc6 . However, Zach's 28….Ra6 kept him in the driver's seat, since after 29. Nxa5 b4 30. cxb4 Bxb2, the pin on the a5-knight means that White can't stop Black's dangerous c-pawn without losing material.
Instead, White played 29. f4, and the game concluded: 29…Rxc6 30. fxe5 Nb7 31. Ra7 Rb6 32. exd6 Nxd6 33. h4 Ne4 34. g4 Nc5 35. Kg2 Na4 36. Kf3 Nxb2 37. Ke4 Nd3 38. Kd5 Kg7 39. g5 Re6 40. Rb7 Re5+ 41. Kd4 Rf5 42. Rb6 Nc5 43. Ke3 Na4 and White resigned.  0-1