On Friday, October 13, you have a chance to meet Robert Katende and support Sports Outreach. On Saturday, October 14, the Washington Education Zone (Miles Hall at 8401 Good Luck Road in Lanham) will host its annual free chess tournament and a simultaneous exhibition by Mr. Katende.
Phiona Mutesi (seated left in the photo below) is one of the most inspiring stories to come from the chess world. As an under-nourished child in a slum of Uganda, Phiona discovered chess and became a champion of the African continent. Her story was written in The Queen of Katwe, then turned into a successful Disney movie.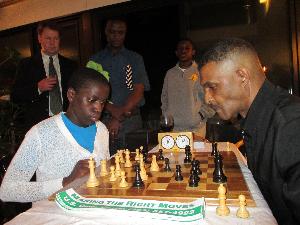 We never would have heard of Phiona, however, had Robert Katende not created a chess program that welcomed her. Katende's story, while not as well known, is equally inspiring. He also was brought up in difficult circumstances by his grandmother in Uganda. Through hard work and perseverance, he went to college, played soccer at a high level, and created a charity to help impoverished young people in his home country.

On National Chess Day this year, you have a chance to meet him and hear him speak.