The U.S. Cadet Championship
The U.S. Cadet Championship is an annual invitational event, ordinarily pitting the top eight Americans under 16 years of age in a round-robin tournament. The tournament began at the Manhattan Chess Club in 1986, when Marylander Alex Sherzer became the first Cadet Champion. Sherzer spent most of his chess career playing in the National Capital area and went on to become an International Grandmaster.
Besides Sherzer, U.S. Cadet Championship winners who later became Grandmasters include Ilya Gurevich, Tal Shaked, and Vinay Bhat. Other noted champions since the tournament's inception include Josh Waitzkin, subject of the book and movie Searching for Bobby Fischer, Justus Williams, who was featured in the documentary film Brooklyn Castle, and future U.S. Women's Champion Carissa Yip, who became the first female winner of the Cadet Championship when she shared first place with Ben Li in 2017.
The tournament has a substantial history in the greater D.C. area. In 1993, two members of the U.S. Chess Center, Geoffrey and Charles Gelman, were eligible to compete in the event, the first two siblings to achieve the ratings to make them eligible to play in a national championship invitational event together since Robert and Donald Byrne in 1969. When the U.S. Chess Federation announced that no bid had been tendered to organize the event and threatened to cancel it, the U.S. Chess Center volunteered to host it at the U.S. Chess Hall of Fame and Museum, then located at its headquarters in downtown Washington. The Center continued as host for three more years. Later, the Maryland Chess Association ran the tournament in Rockville, a suburb of Washington, for five years beginning in 2012.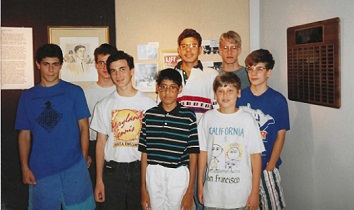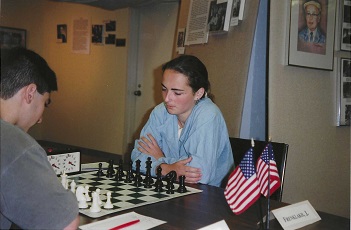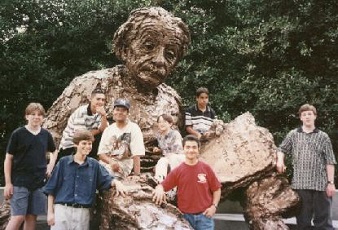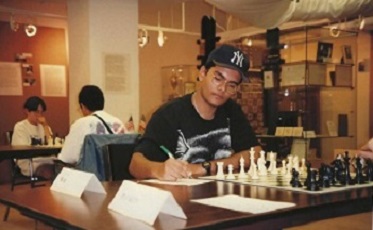 U.S. Cadet Championship Winners By Year
| Year | Winner (s) | Location |
| --- | --- | --- |
| 1986 | Alex Sherzer | New York, NY |
| 1987 | Ilya Gurevich | New York, NY |
| 1988-1989 | not held | N/A |
| 1990 | Bobby Seltzer | New York, NY |
| 1991 | Josh Waitzkin | Bronxville, NY |
| 1992 | Tal Shaked | New York, NY |
| 1993 | Arun Sharma | Washington, DC |
| 1994 | Dean Ippolito | Washington, DC |
| 1995 | Igor Shliperman | Washington, DC |
| 1996 | Noah Siegel | Washington, DC |
| 1997 | Justin Sarkar | Nashville, TN |
| 1998 | Dmitry Schneider, Vinay Bhat | Nashville, TN |
| 1999 | Jordy Mont-Reynaud | Nashville, TN |
| 2000 | Mark Geist, Matthew Traldi | San Francisco, CA |
| 2001 | Aaron Pixton | West Point, NY |
| 2002 | Pieta Garrett | Cleveland, OH |
| 2003 | Matthew Ho, Alen Melikadamian | Miami, FL |
| 2004 | Daniel Ludwig | Lindsborg, KS |
| 2005 | Sarkis Agaian, Elliot Lui | King's Island, OH |
| 2006 | Mark Tyler Arnold | Dallas, TX |
| 2007 | Evan Ju, Warren Harper | Crossville, TN |
| 2008 | Conrad Holt | Lindsborg, KS |
| 2009 | Andrew Ng | Crossville, TN |
| 2010 | Yian Liou, Michael Yang | Crossville, TN |
| 2011 | Arthur Shen, Michael Bodek | Crossville, TN |
| 2012 | Michael Bodek, Christopher Gu, Christopher Wu, Aleksandr Ostrovskiy | Rockville, MD |
| 2013 | Justus Williams, Michael William Brown | Rockville, MD |
| 2014 | Edward Song | Rockville, MD |
| 2015 | Cameron Wheeler | Rockville, MD |
| 2016 | Praveen Balakrishnan | Rockville, MD |
| 2017 | Ben Li, Carissa Yip | Manchester, NH |
| 2018 | David Brodsky | San Jose, CA |
| 2019 | Justin Wang | San Jose, CA |
| 2020 | Christopher Yoo | online, chess.com |
| 2022 | Nico Chasin | Schaumburg, IL |