July 20th is International Chess Day, the day the International Chess Federation (FIDE) was founded, in 1924. First proposed by UNESCO in 1966, International Chess Day has been celebrated annually ever since, and on December 12, 2019, the UN General Assembly unanimously approved a resolution also recognizing the day.
How are you celebrating International Chess Day?  Send us a picture of you and/or your student(s) playing chess; or share an anecdote about learning or playing chess; or how it has made an impact in your life; and we'll feature your pictures/stories right here on our blog, Notate.  Email your photo or story to: admin@chessctr.org.
Support the U.S. Chess Center: In honor of International Chess Day, please donate to help us teach students to play chess in order to promote self-confidence, social skills, and academic success.
The U.S. Chess Center is a 501(c)(3) nonprofit and charitable donations, which are tax-deductible to the maximum extent allowed by law, enable us to:
► Keep our fees exceptionally low;
► Provide scholarships/discounts to financially challenged families;
► Offer free or low-cost chess instruction to Title I public schools.
Thank you!
Some Fun Facts About Chess
► Mathematically there are more possible games of chess than there are atoms in the Observable Universe.
► 605 million adults play chess regularly.
► Chess comes from the 6th century Sanskrit game chaturaṅga, which translates to "four arms." The arms refer to the elephants, horses, chariots, and foot soldiers of the Indian army, which evolved into the modern bishops, knights, rooks, and pawns.
► Although the rule allowing pawns to move two squares on their first move was first proposed in the late 13th century, it was not generally accepted until 1492 when a large group of chess players in Paris also adopted the en passant rule.
Celebrating #InternationalChessDay
Kendrick Smith:  I didn't come to the game of chess until 2012, when I was thirty-six years old.  I picked up a book by John Nunn entitled, Learn Chess.  My first attempts to play were against friends, whom had been playing since their childhood.  It is inevitable to say that they annihilated me causing me to take an early hiatus. Fast forward to April 2020, the pandemic. To implement social distancing in our office, they broke our team up into a day and a night shift. To keep people engaged and morale up, someone had a bright idea to bring in a chess board, where the night shift would play a move against the day shift. I thought to myself, it would take forever to finish the game. So I brought in a board of my own, and set it up at my desk. When work was slow, my coworkers would stop by to play. I got beat often, but I began to learn. I had read that five was a good age to introduce a child to chess, which was the exact age that my son was. Each day that I came home from work, I showed him a piece and how it moved. I next showed him pawn promotion, En passant, and castling.  Then the following week I showed him how to set up the board. We immediately began playing games. The beautiful thing was that on the days I was teaching Manny about chess, my wife would be at the island in the kitchen, listening and watching. She quickly picked up the game just from our sessions. We would each then take turns playing one another. it was it at this point that I began to enjoy the game of chess. I began watching several movies about chess, i.e., Fresh, The Queen's Gambit, Critical Thinking, Brooklyn Castle, The Knight's of the South Bronx, End Game, and Searching for Bobby Fischer. We now play every chance we get. Win, lose, or draw, we love the royal game. As matter of fact, when we're eating at restaurant's outdoors, we'll play games, while waiting on our food. Attached is a picture of my son Manny and I playing at our favorite Ethiopian restaurant, Cher Cher. We plan on having Manny join the chess center this fall.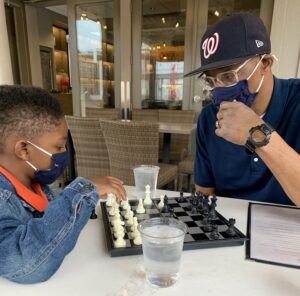 Ashwin, a Chess Center student, playing chess: