After-School Chess Clubs
Start Next Week!
FOR STUDENTS IN GRADES 2-6.  Since 1993, the U.S. Chess Center has been running after-school chess clubs in elementary schools in partnership with PTOs/PTAs throughout the national capital region. We are pleased to resume in-person clubs at many of our locations this autumn.  Registration for the following school clubs is now open:

Colvin Run ES Chess Club (Vienna, VA)
Greenbriar West ES Chess Club (Fairfax, VA)
Poplar Tree ES Chess Club (Chantilly, VA)
Ravensworth ES Chess Club (Springfield, VA)
Spring Hill ES Chess Club (McLean, VA)
Stratford Landing ES Chess Club (Alexandria, VA)
Westbriar ES Chess Club (Vienna, VA)
White Oaks ES Chess Club (Burke, VA)
Willow Springs ES Chess Club (Fairfax, VA)

Our in-person clubs welcome students of all ability levels, from complete beginners to accomplished tournament players.  We teach the rules of chess to students who do not know them and the strategy of the game to everyone.   For both lessons and gameplay, students are grouped by playing strength to ensure that each child is appropriately challenged.  The fall session of our clubs commences the final week of September, and runs all the way to the end of the first half of the school year, in late January or early February.  The spring sessions begin shortly after.
Some of our clubs have decided to be virtual-only this school year.  For these clubs, classes will be online with students also grouped by skill; however, our online clubs are designed for students that already know the rules, basic vocabulary, and basic strategy of chess.  If your student is completely new to chess then they are not eligible to participate in an online club but we are creating classes for them. 
Churchill Road ES Chess Club (McLean, VA) – ONLINE ONLY
McNair ES Chess Club (Herndon, VA) – ONLINE ONLY  
In addition to one after-school meeting each week at the school with instruction and supervised play, membership in our clubs (in-person or online) includes the opportunity to participate in the Elementary Team League, a fun competition that takes place from 1:30-3:00 PM on various Saturdays throughout the school year. This local team event has been a tradition for over 20 years, bringing together students from all over the greater Washington area to represent their chess clubs in friendly matches against other elementary schools.  Students of all levels of tournament experience are welcome.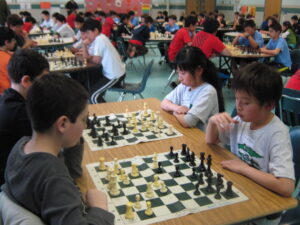 FOR STUDENTS IN GRADES 2-6 who know the rules of chess but are unable to participate in one of our in-person after-school programs, the U.S. Chess Center offers classes online.
Our online classes are live and interactive with a nationally certified chess coach; we do not use videos.  We stratify the lesson groups by ability so that everyone is challenged but nobody is overwhelmed.   Lessons are designed to help students develop confidence without boring them, and students are encouraged to share their ideas and questions with the class.  Our teachers listen to each student to ensure that nobody is left behind, and we observe the games the students play with one another to determine points to emphasize in future lessons.
Online classes are 60 minutes, once each week from 7:00 pm – 8:00 pm ET (UTC -5).  Each class has 20-30 minutes of instruction and 30-40 minutes of supervised play.  Space is limited.
The fall semester of online chess classes starts next week and runs through January 2022.  The spring semester of online classes runs from February 2022 through early June 2022.
If you wish to register your child but have questions about which class level to enroll in, you can read the descriptions of each level on the registration page.