On December 4, ten school teams showed up at St. Luke's Episcopal Church to compete in the second Saturday of matches for this season's Elementary Team League. Early leaders Kent Gardens continued their strong run by winning their first match of the day, before Greenbriar West edged them in the second match giving the rest of the field the chance to catch up a little.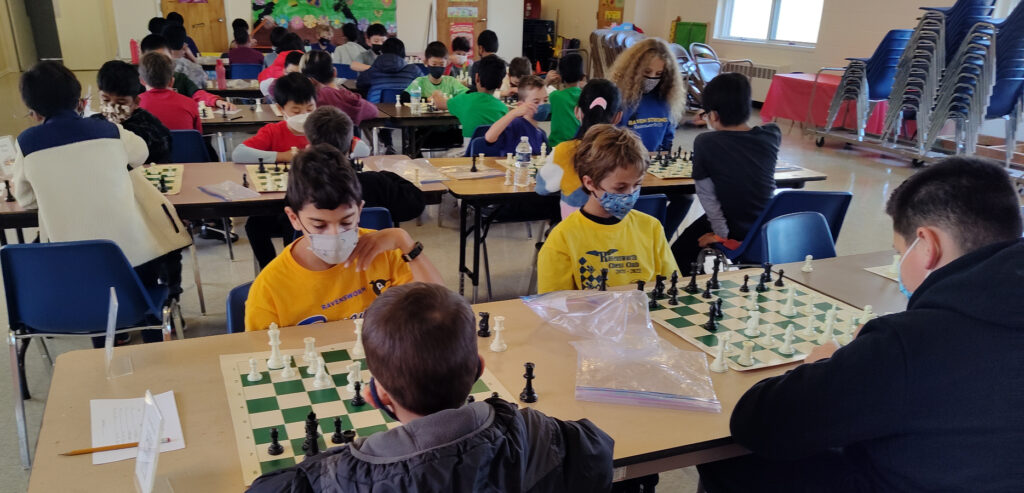 Results from Matchday 2 (of 8)​
Round 1:
Westbriar 2-2 Poplar Tree
Greenbriar West 2-2 Spring Hill
Stratford Landing 1-3 Kent Gardens
White Oaks 1.5-2.5 Colvin Run
Willow Springs 2-1 Ravensworth
Round 2:
Kent Gardens 1.5-2.5 Greenbriar West
Colvin Run 4-0 Willow Springs
Poplar Tree 1-3 White Oaks
Spring Hill 1.5-2.5 Westbriar
Ravensworth 2-1 Stratford Landing
Standings after Matchday 2:
Kent Gardens 50
White Oaks 43
Colvin Run 41
Greenbriar West 39
Poplar Tree 34
Spring Hill 32
Westbriar 23
Ravensworth 14
Willow Springs 13
Stratford Landing 8
Our scoring system is weighted to reward those schools that show up with a full team, since the main goal, as always, is improving the students' skills.
The remaining Saturday league days this season are December 18, January 8, January 22, February 5, February 19 and March 5.  Participation is free and available to all students enrolled in one of our in-person 
after school chess clubs
.  Please reach out to your chess instructor if your child would like to play for their school on a future Saturday.