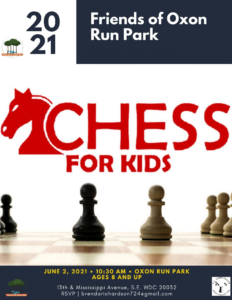 On Wednesday, June 2, we partnered with the Friends of Oxon Run Park to offer the first of several free introductory chess lessons for children (and play opportunities for adults) to be held over the summer at the amphitheater in this Washington, D.C. park.  Everyone who participated (and endured the cacophony of cicadas) also received a US Chess Center chess set courtesy of the Friends of Oxon Run Park.  
Keep an eye out for more chess in Oxon Run Park later this summer.
Thank you to Brenda Richardson and the Friends of Oxon Run for hosting this event!